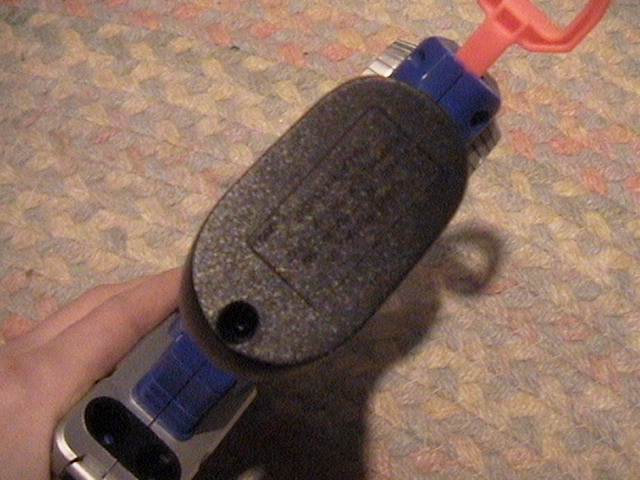 Be sure not to miss this hidden screw on the bottom of the handle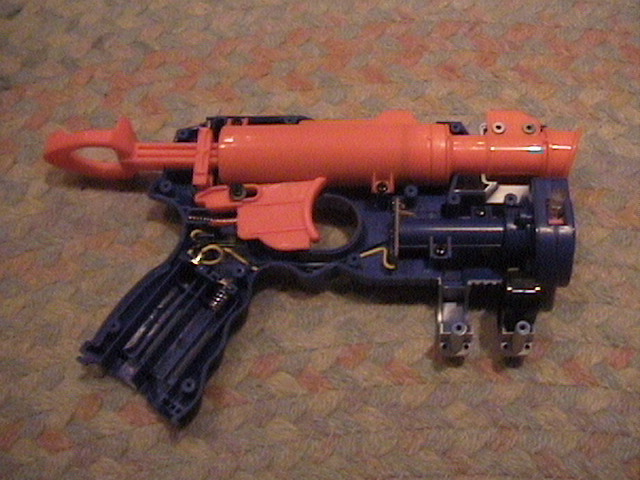 Ah, the beautiful insides of the Nite Finder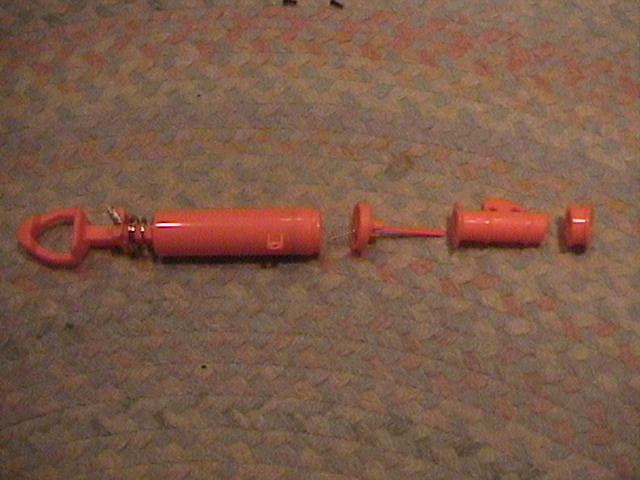 Here is the plunger in its many pieces. The two pieces on the far right, (the ring and the short tube) you can throw away. We won't be needing those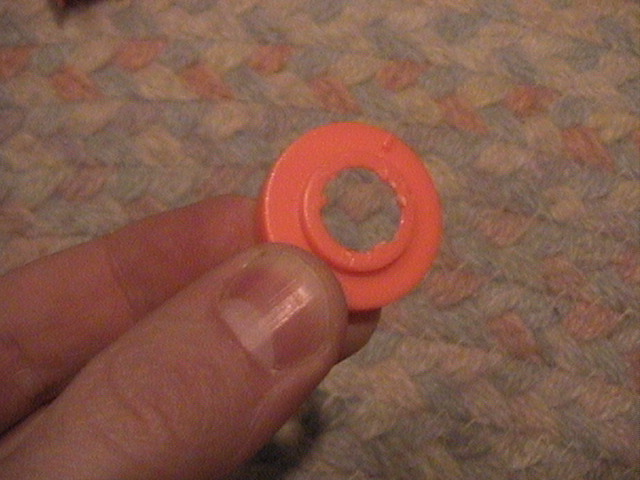 Here's about what it should look like when you're done, if you left the little stubs that connected to the peg on that's fine, it won't really make a difference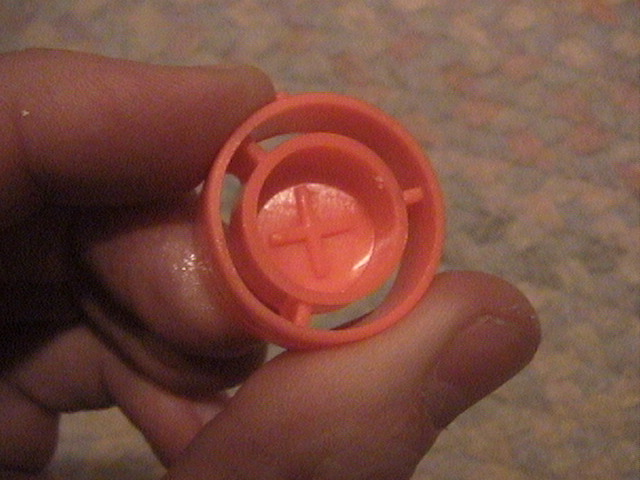 Big freakin' air restrictor. This step is optional, but I highly recommend it as it greatly increases air flow. You need to remove the big center piece without breaking the outer ring. I did this by drilling each of the three pegs holding the center circle in, but you can try other methods. This step is not easy, but again I recommend it if you can.
Glue that piece back into the plunger tube, and glue the cap that had the first air restrictor back on. You can add duct tape for support (recommended).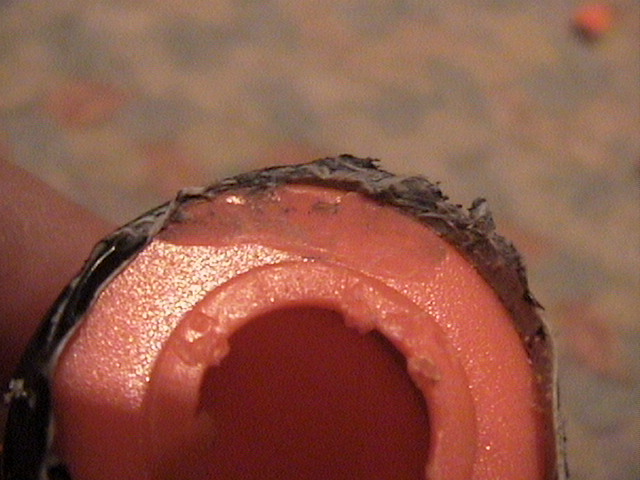 If you did what I did and sanded the inside of the coupler, there may be a small piece of orange plastic sticking up on the orange cap (already sanded off in the picture). Sand this little piece off so the coupler is flush with the cap. After gluing the coupler on, you can add a little more duct tape for support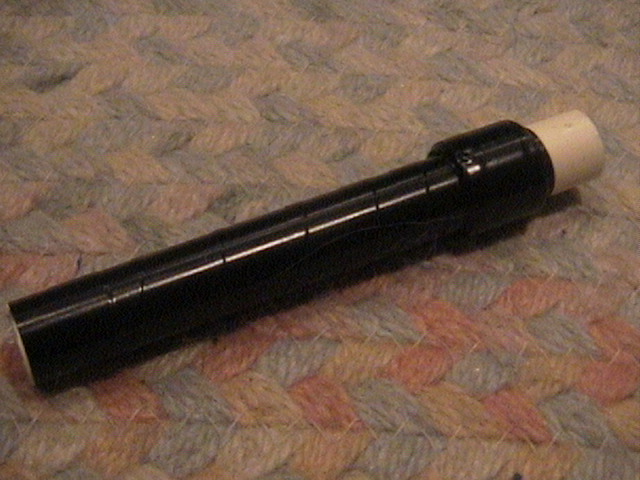 Cut a 5" piece of CPVC to use as the barrel. I used electrical tape for looks (remember not to tape the whole thing, one end needs to fit in the coupler) and then wrapped it a bunch of times near one end to keep it centered in the gun. This is recommended, especially if when you closed your gun up the coupler was a little off to one side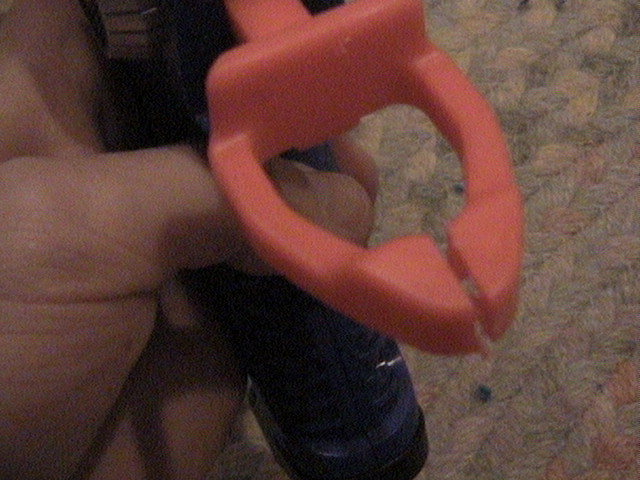 Now you want to cut a slit in the cocking handle, which you can do with a saw or a dremel saw or even heavy duty scissors, anything really, just be careful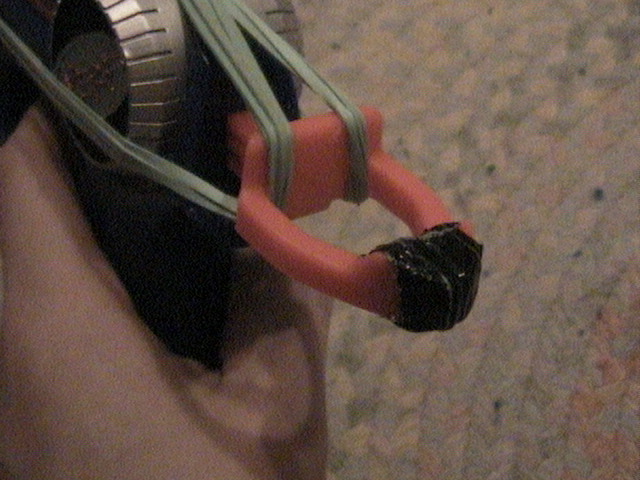 When you're done putting rubber bands on, close up the hole with some electrical tape or duct tape so it doesnt open when you're trying to cock the gun
Some notes about this gun: This mod can be done without the coupler if you don't feel you need it, although the coupler greatly increases rate of fire. Just glue the CPVC barrel right onto the cap, maybe adding some tape for support and to keep it centered. This eliminates the need for sanding any of the insides of the gun, but now you need a ramrod to get the dart down.